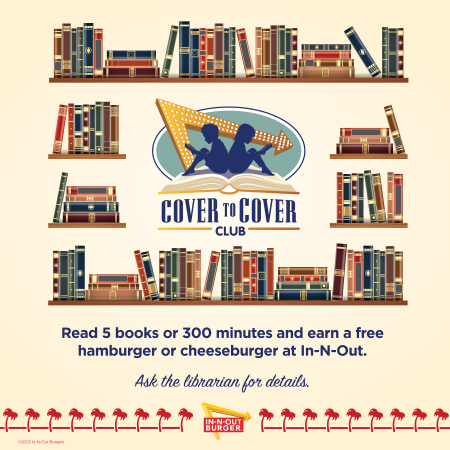 Join the In-N-Out Cover to Cover Club!
October 7 – November 18
Children who read five books or 300 minutes will earn
a free In-N-Out hamburger or cheeseburger at In-N-Out.
Program Details:
Children between the ages of 4 and 12 are eligible to participate. If the children are unable to read themselves, their parents may read five books to them.
Participating children will receive a reading log to keep track of the books they read. A parent or guardian should sign the reading log after each five books are read.
When a child has completed reading five books, they will be presented with an Achievement Award, valid for a free hamburger or cheeseburger at any In-N-Out location.
Each child is eligible to receive an award certificate with every five books read, limit three during the program duration.
One certificate per visit and no certificates issued on the day of sign-up.  
Certificates should be claimed at the same library where the patron registered.
Contact your library for more details!